SureCritic Reviews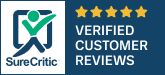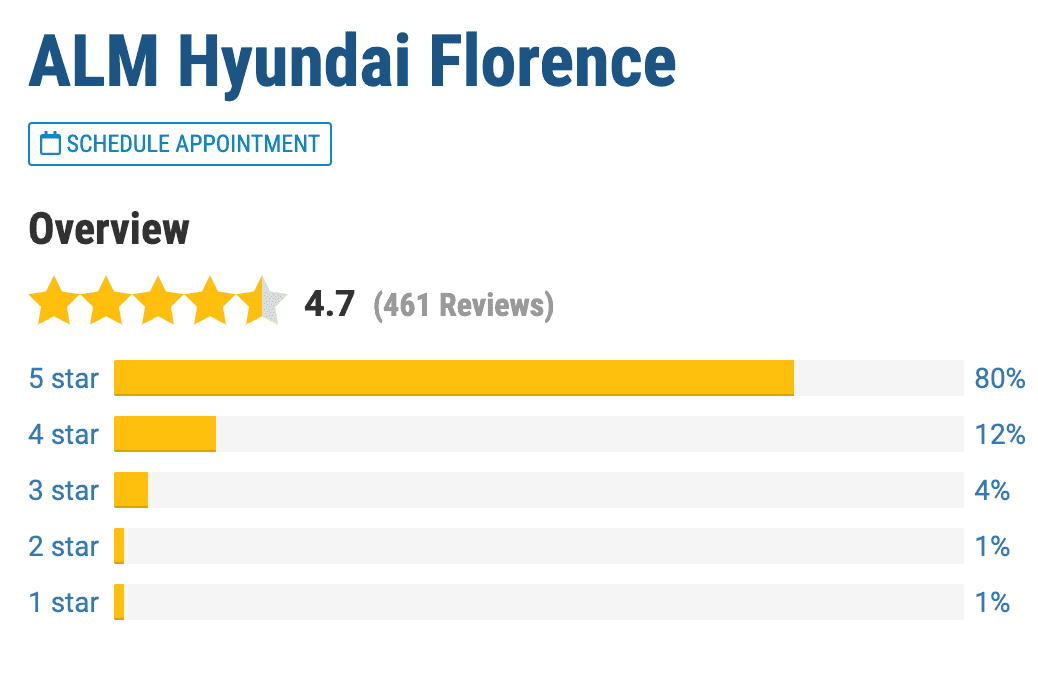 Jolly was an excellent salesperson. Did not rush our decision in choosing which vehicle to purchase. Great personality, friendly, and I will highly recommend to anyone if looking to purchase a vehicle. Go to ALM and ask for Jolly!!
Kimberly is very sweet and kind. I came in looking for a car. She found me the perfect sonata within my budget. I highly recommend shopping there. Management is reasonable.
Joshua was very understanding and listen well to our wish list. He was very thorough in showing the vehicle and made us feel very comfortable with our purchase. Would highly recommend!
Best dealership I have worked with, thanks to Mike Hand and his management team!!
Great personality made us feel like family right person for the job freak attitude listen to concern got the right person to answer questions? Good
Very clean, and the people working there are very pleasant. Josh was a real trooper, working very well with my husband! I'm very glad Josh was our salesman.
Mike Hand was very helpful in getting my wife and I into a vehicle that had the critical features we needed and was also able to help us reach a good middle-ground with financing even with us coming out of some credit trouble. Great dealership overall, excellent vehicle inventory, and staff were not pushy at all, they simply want to see you happy. Highly recommend!
I have never been more disappointed and upset in my life!! Never explained anything. Did not replace recall part. Screwed up my key program. I will not recommend this service Dept ever!!!'
The General Manager Ken Myers was very friendly and professional. He responded to my needs quickly and efficiently.
Just purchased our brand new 2022 Hyundai Santa Fe this week and I couldn't be happier with our choice in a new vehicle. Mike was our salesperson and he helped us find the right fit for our family and budget, he was awesome! They have a great selection of beautiful vehicles and really good prices.
Salesman Review: Mike H. was very knowledgeable about the features on the car. Also had a good understanding of what was on the lot and within our specified budget. Also was great on trying to work with you on the best deal. Only reason I bought a car from the dealership. 5/5 rating Dealership Review: (The below rating has no reflection or effect on the sales rep staff) (The below rating is specific to the management staff) Overall dealership was an okay experience. Sales management comes across as arrogant. Example: pushed financing through one bank because "no other bank would do ...
The dealership was clean the staff friendly and helpful. I was not planning on buying but the staff was outgoing enough to explain the benefits of taking my vehicle for a newer model.
Had a great experience shopping and buying a car from ALM. Sales Consultant Shawn was wonderful from start to finish and helped make the whole process seamless and enjoyable. Would highly recommend!
ALM Hyundai has very friendy customer service I didn't have a long wait time I am definetley going to buy my next Genesis from here they treat you like they've known you for years when you wall through the door.
Kevin, George and Mike in finance were excellent. It's been a long time since we actually enjoyed the new car buying process. Very professional...NO pressure. We drove 160 miles for the purchase...well worth the trip. We only wish the dealership was closer... although we'd definitely do it again, if need be, for our next purchase.
While getting ready to travel back home to Florida after our vacation was over this morning, we stop in Florence SC to fuel up. While doing so our 2018 Hyundai Sonata would not start. We ended up being towed to the Hyundai ALM of Florence where there Service Manager Joey and his service team jumped right on the case to find out what was going on with our car so they could get us up going on the road again. Ended up being our starter which they fixed quickly for us. We HIGHLY recommend getting the extra protection on your new ...
Kimberly was amazing! When I insisted on a certain style suv I liked, she wouldn't give up on finding me one that I liked but LOVE!
I had a great experience dealing with Jolly at ALM. I already knew what I was looking for when I went to the dealership and had my expectations for my trade in. I Made it clear that I didn't have to have the new car, I just liked it and they did everything to make me happy so I would leave with the new car that day. They succeeded! I love my new Hyundai Tucson!
Kevin Graham was an excellent salesman. After being somewhat ignored by two gentleman out front I decided to walk inside to see if I could get some assistance. Mr. Graham greeted me with a smile, apologized on behalf of the two guys outside, and assisted me in the most professional manner. He answered all my questions, and he did not pressure me to buy. He was very knowledgeable about my inquiry. I settled on the 2021 Palisade! I'm very happy with my purchase. Thank you Kevin Grant, ALM should be proud that have an outstanding salesman as yourself!
i had the best car buying experience at alm hyundai in florence. All the staff where very kind and helpfull. i would recoment this dealership over any. the entire team works to get you the best deal and have you driving away in your dream car.
My Hyundai was having various issues which led to the AC not blowing cold. After a couple auto repair shops, I finally decided to take it in to the dealership. I will say I was very hesitant, worried that they would find even more problems and overcharge. Adam diagnosed and worked on my vehicle. He was able to explain what was going on, and was able to have my car repaired same-day in a reasonable amount of time and for a reasonable price. Adam was so professional, courteous, and sincere! He even called later that afternoon to check that everything ...
I just bought 2 cars from them. Shawn was my salesman and I highly recommend him. He goes to bat for his customers. Their staff is very professional. Eve works hard to follow up any concerns the customer has. The GM cares and they all work together to make sure the customer is taken care of. Hyundai is an awesome company. ALM is one of the better dealerships. I live in Mrytle Beach and chose them over my local dealer. I'm a disabled veteran and single father. They brought me the cars the same day and did all the paper ...
Great place! I had a bad credit but their finance team got me approved with lots of bank they have! Special thanks to Maheen.
Great staff, great selection of vehicles to choose from. Definitely recommend this place! Thanks to Maheen!